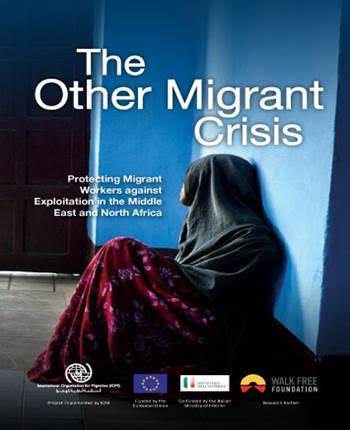 Cover of "The Other Migrant Crisis" Research Paper released by IOM
The Middle East and North Africa (MENA) region especially in the Gulf has continuously attracted migrants from around the world due to the region's oil boom and dramatic upsurge of all kinds of construction.
"The Other Migrant Crisis" as the International Organization of Migration (IOM) has dubbed it, is the exploitation and trafficking of migrant workers. The policy research, commissioned by IOM and its partner Walk Free Foundation (WFF), is a significant by-product of IOM's European Union-funded "Action to Protect and Assist Exploited and Vulnerable Migrant Workers in Middle East and North Africa (or PAVE)" Project.
The study involved: a literature review, focus group discussions with respondent migrants from two host countries (Ethiopia and the Philippines) and two destination countries (Lebanon and Jordan) and round-table discussions with government, Non-Governmental Organizations (NGOs), and International Organizations (IOs) in the region.
IOM-Philippines held the mini-launch of the report last December 8, 2015 (Tuesday) at the Philamlife Tower club following the global launch held in Lebanon. It was attended by representatives from both public and private sectors and media, among which include the Commission on Filipinos Overseas (CFO), the Overseas Workers Welfare Administration (OWWA), the Department of Foreign Affairs (DFA), the Blas F. Ople Policy Center and Training Institute, Visayan Forum, Vera Files and Star. Representatives from the IOM Headquarters Geneva and IOM Philippines' regional offices in Cotabato were also in attendance.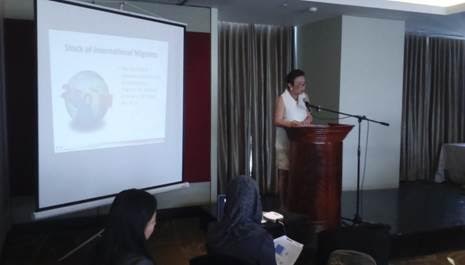 Sec. Nicolas delivering the welcome remarks
Secretary Imelda Nicolas of the Commission on Filipinos Overseas delivered the welcome remarks, wherein she gave an overview on the situation of migrants in the MENA region and enumerated the different CFO initiatives to combat human trafficking. The agency has transformed the 24/7 1343 hotline against human trafficking to a multimedia platform which now includes the internet (www.1343actionline.ph), email (This email address is being protected from spambots. You need JavaScript enabled to view it.), and a mobile app which can be downloaded via google pay and apple app store.

She also highlighted the innovative online legal counseling program included in the action line's website for legal queries on human trafficking, illegal recruitment, mail order bride schemes and domestic violence resulting from multi-cultural marriages. CFO calls the program "Itanong mo kay Ato" or Ask the Attorney (https://onlinelegalcounseling.1343actionline.ph/).
As Chair of the IACAT- Advocacy and Communications Committee (ADVOCOM), the CFO develop various information materials such as video, posters, stickers, pamphlets and conduct capacity building trainings among various stakeholders including the local media and the youth sector.
She was followed by Ms. Romina Sta. Clara of IOM Philippines who presented the research findings. Mr. Marco Boasso, IOM Philippines' Chief of Mission, delivered the closing remarks.
The report aims to provide relevant governments and civil society groups, including the general public, vital information which can aid in educating, lobbying, raising awareness and the formulation of policies and programs for better protection of migrants in MENA.
An e-copy of the report can be downloaded here: https://publications.iom.int/system/files/pdf/other_migrant_crisis.pdf
For more information regarding this press release, please contact:
Commission on Filipinos Overseas
Contact Person: Ms. Ashyanna Alexine Bangcola
Contact Information:
Email addresses: This email address is being protected from spambots. You need JavaScript enabled to view it.
Telephone Numbers: (632) 552-4761
Facsimile Number: (632) 561-8160
Date of Submission: December 10, 2015